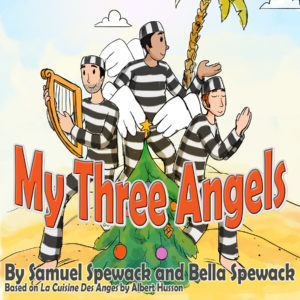 A completely captivating comedy
November 25 to December 17, 2017
Directed by Mia Mercado
8:00 PM — November 25, December 1, 2, 8, 9, 15, & 16
2:00 PM — November 26, December 3, 10, & 17
Auditions: October 3* and 4*, 2017, at 7:00 p.m.
Learn about auditioning
*(Tues. & Wed.)
It's Christmas Eve 1910, and the temperature in French Guiana has graciously dropped to 104 degrees. On the way from France is an evil-minded cousin, to oust the father of the family from his business, and his cold-blooded nephew, who is jilting the father's daughter for an heiress. Three exiled convicts, employed as roofers by the family, take the visitors on. Possessing every criminal art and penal grace, they set matters right and in doing so redeem themselves as real life angels to the grateful family.
My Three Angels is presented by special arrangement with Dramatists Play Service, Inc.
Our Online Box Office is Now Open!
Individual show tickets go on sale August 28, 2017! Until then, purchase season tickets.