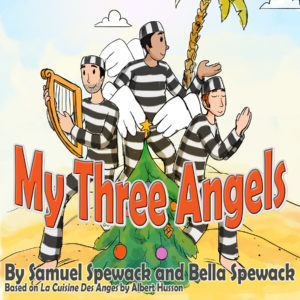 A completely captivating comedy
November 25 to December 17, 2017
Directed by Mia Mercado
8:00 PM — November 25, December 1, 2, 8, 9, 15, & 16
2:00 PM — November 26, December 3, 10, & 17
Auditions: October 3* and 4*, 2017, at 7:00 p.m.
Learn about auditioning
*(Tues. & Wed.)
It's Christmas Eve 1910, and the temperature in French Guiana has graciously dropped to 104 degrees. On the way from France is an evil-minded cousin, to oust the father of the family from his business, and his cold-blooded nephew, who is jilting the father's daughter for an heiress. Three exiled convicts, employed as roofers by the family, take the visitors on. Possessing every criminal art and penal grace, they set matters right and in doing so redeem themselves as real life angels to the grateful family.
My Three Angels is presented by special arrangement with Dramatists Play Service, Inc.
Reviews
"A completely captivating comedy." —Philadelphia Inquirer.
"Exudes a welcome and congenial air of humanity." —Christian Science Monitor.
"Engaging and pleasant preposterous comedy." —NY News.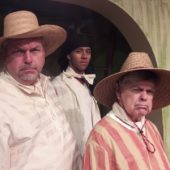 Family and friends arrive on Thanksgiving Day for the big feast, watch football, eat, play games, eat, shop, eat, catch up on news, and then eat more. On Friday you spend more time with your holiday guests, often venturing out to shop, eating leftovers, sleeping, eating leftovers, watching a movie, and eating leftovers. Then Saturday comes. Now what do you do with your guests to entertain them? Redlands Footlighters Theater has the perfect answer for this dilemma – Come see live theatre! My Three Angels, […]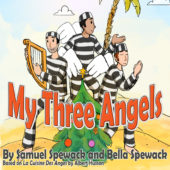 Auditions for My Three Angels, directed by Mia Mercado, will be held October 3rd & 4th (Tuesday and Wednesday) at 7:00 p.m. at Redlands Footlighters. Casting 7 men/3 women The audition will be cold readings from the script Rehearsals are Monday- Thursday, 7-10 pm Show dates are November 25 – December 17 Learn more about auditioning. The scene is French Guiana, Christmas day where the temperature has graciously dropped to 104 degrees. Three amiable convicts are employed as roofers at Ducotel's General Store. The roof […]