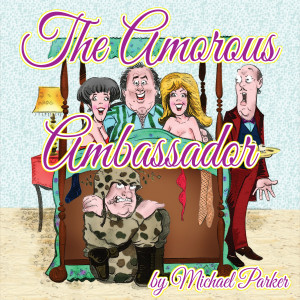 Hilarious from the first double entendre to the last pratfall!
June 3-25, 2017
Directed by Pat Adeff Fifield
8:00 PM — June 3, 9, 10, 16, 17, 23, & 24
2:00 PM — June 4, 11, 18, & 25
Auditions: April 3-4, 2017, at 7:00 p.m.
Learn more
"Hormone" Harry Douglas , the American Ambassador to Great Britain, tells his wife, Lois, that he has arranged a golf outing in Scotland for the weekend. She in turn tells him that she too will be gone for the weekend at a spa and that their daughter, Debbie, will be gone visiting a girlfriend. Each then tells Perkins, their newly hired butler, of their plans. He stoically watches as each of them leave for the weekend.
So, where's the farce? Harry, secretly returns to the empty house, having planned a romantic rendezvous with a sexy, next-door neighbor Marianne. This is no ordinary rendezvous as they plan to act out their fantasies, she a French maid and Harry as Tarzan. Debbie returns with her boyfriend Joe, believing they have the house to themselves for the whole weekend. Harry's secretary, Faye Baker, and Captain South of the U.S. Marine Corps arrive in the wake of a bomb threat at the embassy, and must set-up communications in Harry's country home. Captain South places a squad of marines around the perimeter, and everybody is sealed in.
It soon becomes apparent that Faye was not hired for her secretarial abilities.
Harry hears Debbie talking to someone in her room and asks who it is. After a moment's hesitation, Debbie comes up with a brilliant idea and says, "It's my girlfriend Josephine." Joe now spends the rest of the play in and out of drag. To make matters worse, Hormone Harry becomes infatuated with Josephine, Captain South believes he is hot on the trail of a mad bomber, and accident prone Faye comes close to destroying Great Britain. Meanwhile, Perkins manages to get his tie caught in Debbie's jacket zipper and his hand super-glued to Faye's derriere.
Written by the master of modern American farce, Michael Parker, it has all the double entendres, innuendoes, slamming doors, barely missed encounters, sight gags, skimpy outfits, and bed-hopping as you'd expect.
Presented by special arrangement with Samuel French, Inc.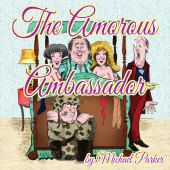 Redlands Footlighters will hold auditions for Michael Parker's The Amorous Ambassador on April 3 and 4 at 7:00 PM.  Auditions will consist of cold readings from the script. Director Pat Adeff Fifield is looking for 4 men and 4 women between the ages of 20 and 65. The Amorous Ambassador is a fast paced farce with adult themes. The action of the play takes place in the country home of the United States Ambassador to Britain, outside London. The Cast: HARRY DOUGLAS: A former U.S. […]