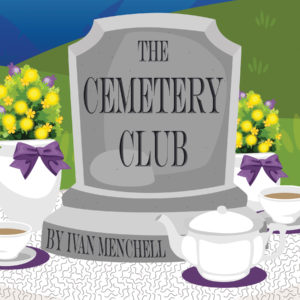 Funny, sweet-tempered, and moving
April 7 to April 29, 2018
Directed by Pamela Lambert
8:00 PM — April 7, 13, 14, 20, 21, 27, & 28
2:00 PM — April 8, 15, 22, & 29
Auditions: February 5 and 6, 2018, at 7:00 p.m.
Learn about auditioning
Three Jewish widows meet once a month for tea before going to visit their husband's graves. Ida is sweet tempered and ready to begin a new life, Lucille is a feisty embodiment of the girl who just wants to have fun, and Doris is priggish and judgmental, particularly when Sam the butcher enters the scene. Long friendships are threatened by romance and jealousy and the ladies have to work to mend Ida's broken heart.
The Broadway production starred Eileen Heckart as Lucille. It was made into a film, starring Ellen Burstyn, Dianne Ladd, Olympia Dukakis.
The Cemetery Club is presented by special arrangement with Samuel French, Inc.
Our Online Box Office is Now Open!
Individual show tickets go on sale August 28, 2017! Until then, purchase season tickets.