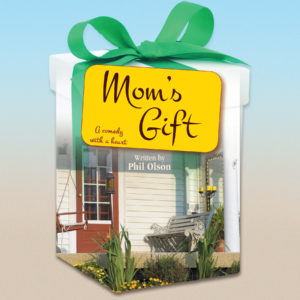 A comedy with a heart!
August 5-27, 2017
Directed by Vicki Janis
8:00 PM — August 5, 11, 12, 18, 19, 25, & 26
2:00 PM — August 6, 13, 20, & 27
Auditions: June 5 and 6, 2017, at 7:00 p.m.
Learn about auditioning
Eleven months after her passing, Mom shows up at her husband's birthday party. Like Clarence in It's A Wonderful Life, she must accomplish a task to earn her wings. Her work is complicated by the fact that the only person who can hear or see Mom is her reluctant daughter who has been ordered by the court to spend Dad's birthday with him as part of her Anger Management Program. Laughs abound as the family's secrets are revealed in surprising twists told with Minnesotan charm.
From the same playwright as 2009's A Nice Family Gathering.
WINNER! – McLaren Memorial Comedy Playwriting Competition
WINNER! – Best Stage Play, World Series of Screenwriting Competition
WINNER! – TRU New Voices Play Festival
WINNER! – Northern Writes Playwright Festival
Mom's Gift is presented by special arrangements with Samuel French, Inc.
Reviews
"If you love the comedy, 'It's a Wonderful Life,' this modern variant by playwright Phil Olson is just for you!" – Not Born Yesterday
"Time rarely moves so fast on stage as in 'Mom's Gift.' The rapid-fire succession of uproarious one-liners and poignant family revelations brings the audience to the completely unexpected surprise ending in what seems like a flash!" – Norwegian American Weekly
"A rare treat! If it is indeed holiday entertainment you are looking for, Olson's play will fill those emotional gaps and turn a routine holiday into an unforgettable journey towards forgiveness, love and self-transformation. It is a unique theatrical experience!" – The Tolucan Patch
"A humorously poignant and thought-provoking story… Touching and hysterical in turns…Heartwarming and compelling…This story is a heartfelt cross between family dynamics, the loss of a loved one, and the power of love." – Tolucan Times
"An audience pleaser!…There is a surprise ending that will not be divulged here, but suffice it to say, the result is an always engaging, funny evening of love and laughter." – Stage Happenings
"This new play by playwright Phil Olson, creator of the 'Don't Hug Me' series of comedies, composes a play that is charming, bittersweet (more sweet than bitter), and most of all, is rather comical in terms of one liners and plot situations…Captivating, witty, and most of all, tells a story that speaks about a bonding between mother and daughter, even though this bonding is far from the ordinary." – Accessibly Live
"A crowd pleaser!…'Mom's Gift' demonstrates playwright Olson's gift at creating the kind of old-fashioned feel-good comedy that hardly gets written anymore, one that not only provides ample laughs but more than a few tears when things take a dramatic turn in its surprise-twisty last half-hour….The popularity of Olson's Don't Hug Me series and the upcoming Samuel French publication of his latest could easily make "Mom's Gift" a community and dinner theater favorite. That it is family-friendly fare is icing on the cake!" – Stage Scene LA
"Wonderful!…There were numerous laugh-out-loud moments. Even better, however, were the twists in the second act. The ultimate resolution of the story was quite touching, and even brought a little dampness to the eyes. It demonstrated (yet again) that a well-written story is the heart of great theatre. If you can get tickets, it is well worth seeing!" – Observations Along the Road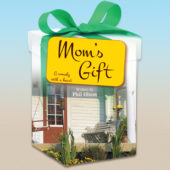 Redlands Footlighters will host auditions for the new comedy, Mom's Gift, written by Phil Olsen, June 5 and 6 at 7:00 p.m.  Directed by Vicki Janis, performances run August 5-27, 2017. Auditions will consist of a cold read from the script.  The play is set in a Minneapolis suburb,  Minnesota accent requested.  If you are interested in working backstage please come to either night of auditions to meet the director and share contact information. Synopsis: Eleven months after her passing, Mom shows up at her husband's […]