Announcing Mom's Gift auditions for June 5 & 6
Redlands Footlighters will host auditions for the new comedy, Mom's Gift, written by Phil Olsen, June 5 and 6 at 7:00 p.m.  Directed by Vicki Janis, performances run August 5-27, 2017.
Auditions will consist of a cold read from the script.  The play is set in a Minneapolis suburb,  Minnesota accent requested.  If you are interested in working backstage please come to either night of auditions to meet the director and share contact information.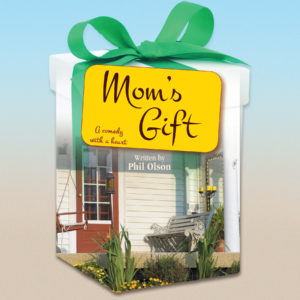 Synopsis:
Eleven months after her passing, Mom shows up at her husband's birthday party. Like Clarence in It's A Wonderful Life, she must accomplish a task to earn her wings. Her work is complicated by the fact that the only person who can hear or see Mom is her reluctant daughter, who has been required to spend Dad's birthday with him by her court-ordered anger management program. Laughs abound as family secrets are revealed in surprising twists told with Minnesotan charm.
From the same playwright as A Nice Family Gathering.
Seeking 4 women and 2 men.
Kat – 30 yr old female, educated professional woman
Mom – 60ish homemaker
Dad – 60ish doctor type
Brittney – 22 yr old, younger sister, Hooters waitress
Trish – 45 yr old, pretty nurse
Kevin – 30 yr old neighbor, good looking, successful businessman
Mrs. Norquist – voice over, kooky neighbor
Mom's Gift was first produced at the Lonny Chapman Group Repertory Theatre in Los Angeles, California, in December, 2013 directed by Sherry Netherland.
Mom's Gift is presented by special arrangements with Samuel French, Inc.