Holiday Weekend To-Do: My Three Angels Opens Saturday
Family and friends arrive on Thanksgiving Day for the big feast, watch football, eat, play games, eat, shop, eat, catch up on news, and then eat more. On Friday you spend more time with your holiday guests, often venturing out to shop, eating leftovers, sleeping, eating leftovers, watching a movie, and eating leftovers.
Then Saturday comes. Now what do you do with your guests to entertain them?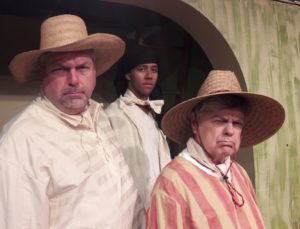 Redlands Footlighters Theater has the perfect answer for this dilemma – Come see live theatre! My Three Angels, by Samuel Spewack and Bella Spewack, is opening on Saturday evening, November 25, 2017, at 8:00 pm and is appropriate for age 10 and up.
This is not a traditional Christmas show yet offers a delightful storyline of three exiled convicts employed in French Guiana on Christmas Eve, 1910 as roofers to a family about to have their lives turned upside down by an evil-minded cousin and his cold-blooded nephew. Watch as they use their criminal art and penal grace to set matters straight and redeem themselves as real life angels in the process.
Directed by Mia Mercado of Redlands, the cast includes:
Spencer Mansouri as Felix Ducotel
Danielle Dorsey as Emilie Ducotel
Prianthi Masilamani as Marie Louise Ducotel
Mike Hanrahan as Joseph
Paul S. Martin as Jules
Kenny Wright as Alfred
Bill Becker as Henri Trochard
Sean Green as Paul
Vicki Janis as Madame Paolre
Cameron Griffis as Lieutenant
Tickets may be purchased on-line at www.RedlandsFootlighters.org or by calling our Box Office at (909) 793-2909 and leaving a message. We are located at 1810 Barton Rd, Redlands, CA.
This is a show you won't want to miss. My Three Angels is based on La Cuisine Des Anges by Albert Husson and presented by special arrangement with Dramatists Play Service, Inc.