Auditions for My Three Angels are right around the corner!
Auditions for My Three Angels, directed by Mia Mercado, will be held October 3rd & 4th (Tuesday and Wednesday) at 7:00 p.m. at Redlands Footlighters.
Casting 7 men/3 women
The audition will be cold readings from the script
Rehearsals are Monday- Thursday, 7-10 pm
Show dates are November 25 – December 17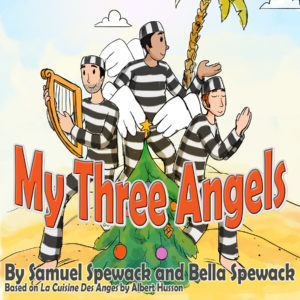 The scene is French Guiana, Christmas day where the temperature has graciously dropped to 104 degrees. Three amiable convicts are employed as roofers at Ducotel's General Store. The roof winds up being the least of the Ducotel family's trouble. On the way from France is an evil-minded cousin and his cold-blooded nephew, who jilted the Ducotel's daughter for an heiress. The three convicts are passionate believers in true justice, and decide it's their job to take the visitors on. Possessing every criminal art and penal grace, they set matters right in this captivating and comedic holiday treasure.
Character Descriptions
Felix Ducotel: Big hearted, trusting shopkeeping on the island. He believes there is goodness in all people; his kindness and generosity lead him to being taken advantage of and as such his business is in danger of failing, He is Emily's husband and father to Marie Louise. (Age: 50's)
Emily Ducotel: Not as trusting as her husband, she is none the less a property lady who is a devoted wife and mother. She wants the best for her family and is highly protective of them. She initially distrusts the convicts, but she eventually warms to them, and in particular to Jules. Emily has a better business sense than her husband, however since she is not in charge of the shop, she spends a good deal of time gently trying to correct or undo some of Felix's practices. (Age: 30's-40's)
Marie Louise Ducotel: Lovely, sweet, innocent daughter of the Ducotels. She believes whole-heartedly in the power of love. She has returned from a season in Paris during which she fell madly in love with Paul. Life is exciting, almost overwhelming to her. She faints often, is dramatic but sweet, kind, and loyal. Her parents and the convicts all feel highly protective of her. (Age: 18-24)
Joseph: The unofficial leader of the convicts. He is in jail for forgery and confidence schemes. During his time at the Ducotels, he enjoys waiting on the costumers for Felix. He is excellent at book-keeping and very good with numbers. The Ultimate salesman, he could easily (and probably has) sold reading glasses to a blind man. He is slick and charming. (Age: 40's)
Jules: The soul of the convicts. Jules is rather philosophical about life and often dispenses advice. He has unexpected warmth and tenderness for being a double murderer. He helps to keep Alfred's temper in check while being amused by Joseph's antics. He forms a bond with Emily and genuinely wants good things for the Ducotel family. (Age: 40's)
Alfred: The hot head of the convicts. Alfred jumps into action before the others. He is a former society boy, reasonably good looking and not without charm but has an edge to him. He is in prison for murdering someone over money. He is the correct age to have been a suitor for Marie Louise, if not for his crimes. She represents the life that he lost and as such he's jealous. He's very protective of Marie Louise. He is strong, implusive, charming but dangerous. (Age: 20's)
Henri Trochard: Felix's counsin and primary investor in his shop. He is cold, overbearing, and meanspirited. He loves money and is highly impressed with his own success. He is actively grooming Paul (his ward and heir) to take over the family business. He has come to the island to inspect the store and to close it down for failing to turn a profit. His brazen arrogance and cruelty draws the anger of the convicts. (Age: 50's)
Paul: Young, handsome promising ward to Henri. He was romantically involved with Marie Louise, but he has become engaged to her wealthier friend at the insistence of Henri. He is still attracted to and cares for Marie Louise but loves status and money more than her. He has a well-hidden, underhanded, mean streak in him.
(Age: 20's)
Madame Parole: Resident of the island. She is a busy-body and a gossip. She often shops at the Ducotels' store, placing all her purchases on a line of credit and somehow never has money to pay the credit line each month. She manipulates Felix often and she becomes a target for the convicts.
(Age: Flexible)
Lieutenant: Young, handsome, straightforward soldier. He has mutual friends with Felix, who has written him a letter of introduction. The convicts instantly approve of him. He is every good thing that Paul is not.
(Age: 20's)