Play On! Delights Audiences
Laughs filled Redlands Footlighters as Play On!, by Rick Abbot, opened Thursday, January 9th. Congratulations to a wonderful cast for their hard work!
Director Chris Diehl leads an outstanding cast that features Melvin Caldwell, Rory Dyer, Emerald Gonzalez-Castillo, Sarah Ikenberry, Deborah Witherspoon McFatter, Heidi Merrigan, Emily Minor, Cash Morgan, Richard Rogers, and Carina Wolf.
"There is nothing quite like live theater," commented director Chris Diehl, "it is one of the most exhilarating experiences. But, when something goes wrong, it can be terrifying."
Every fear comes to life for audiences to enjoy: late entrances, dropped lines, wrong sound cues, missing props, and meddling playwrights.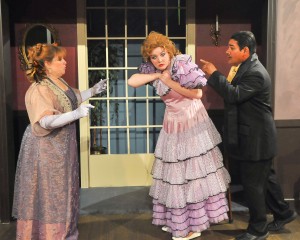 Act one is a frustrating rehearsal where the playwright keeps changing the script, act two is a dreadful dress rehearsal, and the final act is the disastrous opening night where anything that can go wrong does.
Play On! will continue through January 26th, performing Fridays & Saturdays at 8pm and Sundays at 2pm. Call the box office at 909-793-2909 to reserve your seats.