Footlighters brightens up summer with the dark comedy Vigil
Vigil, by the Canadian playwright Morris Panych, is a brilliantly poignant comedy about an unexpectedly extended visit between Kemp, played by Shawn Warner of Yucaipa, and his bedridden elderly aunt, played by Deborah W. McFatter of Redlands. The nephew's relentless, matter-of-fact outrageousness will make the audience laugh and gasp at the same time, as his good deed of visiting a supposedly-dying aunt quickly wears off – and the two must come to a sort of unusual peace with each other.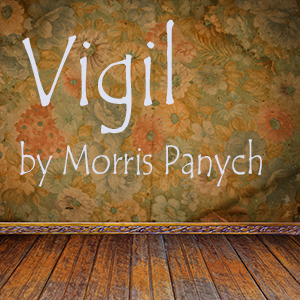 Performances are July 29, 30, 31, and August 5, 6, 7, Fridays and Saturdays at 8PM and Sundays at 2PM.
This production is presented by Redlands Footlighters, but is the capstone project of director Kellie McDonald's Master's of Fine Arts in Theatre Directing from East 15 Acting School in London. Set and props are designed by Sarah Pearce.
Vigil premiered in 1996 and has been produced throughout North America, the United Kingdom, and Europe, including a 2009 Off-Broadway production, which opened to rave reviews, a run as Auntie & Me in London and, in 2011, shows at the Mark Taper Forum in Los Angeles and the American Conservatory Theater in San Francisco, where Panych directed Academy Award–winner Olympia Dukakis opposite Marco Barricelli in the lead role.
"Wickedly dark … hilarious, quirky and heartfelt." —Variety
"A small masterpiece." —Globe and Mail
"A devilishly funny play [that] laughs in death's face." —Maclean's
"This is one of those rare, liberating plays that actually breaks a taboo. [Panych] gives voice to the silent thoughts that hover around many death-beds." —National Post
"Literate, incisive, edgy and lots of good, naughty fun." —Syracuse New Times
"It causes us to think about, and perhaps appreciate in a new light, all the small things in life that ultimately define the relationships that matter most." —San Francisco Chronicle
About the Show
There's nothing like spending time with family to make the idea of dying alone sound wonderful. Devoted misanthrope Kemp quits his job at a second-rate bank to see off his dying aunt, only to find that Grace seems to have no intention of going anywhere. As the days wear on, Kemp begins scheming to expedite the grieving process in this delightfully cynical dark comedy.
What happens when an extremely self-centered and shallow person finds himself, through his own errors and inattentiveness, in a life and death situation with profound and far reaching consequences? A play of twisted circumstance, mistaken identity and surprising turns.
Vigil is produced by special arrangement with Playwrights Guild of Canada.