Chasing Manet, by Tina Howe, opens November 6
In this tender yet light comedy, two unlikely friends form an ever more unlikely plan: escape from the Mount Airy Nursing Home on the QE2 to Paris. The chaos caused by colorful residents may provide the perfect cover for their last great adventure.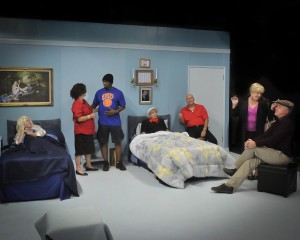 The wonderful and talented cast directed by Mel Chadwick: Starting with the leads Diane Borcyckowski as Catherine, and Cindi East as Rennie. The supporting cast include Rory Dyer, Teresa Dolan, Kevin Jones, Eric Dunn, and Chuck Baugh. All playing multiple roles.
The Redlands Footlighters Theater is located at 1810 Barton Road, next to the Asistencia. Call 909-793-2909 for tickets beginning November 2.
Chasing Manet opens Thursday, November 6th, 2014 with a reception following the performance. The performances continue Friday and Saturday evenings at 8:00 pm and Sunday afternoons at 2:00 pm through November 23rd, 2014. Admission is $15/$10 with student ID.
By the way, if you ever wanted to help out with a local community theater, we would love to see you. Do you like to paint, work on costumes, build things or try your hand at being in front of the stagelights, come on by and let us know!