Audition Information: Ken Ludwig's "The Game's Afoot" July 7 and 8
Redlands Footlighters will hold open auditions for a hilarious new murder mystery, Ken Ludwig's The Game's Afoot, directed by Phillip Gabriel. Auditions will be held Monday and Tuesday, July 7 & 8, at 7:00pm. Footlighters is located at 1810 Barton Road in Redlands.
Auditions will consist of cold readings from the script. Performances are September 4-21, 2014.
We are also seeking help in various behind-the-scene roles. If you're interested, please come to auditions to introduce yourself.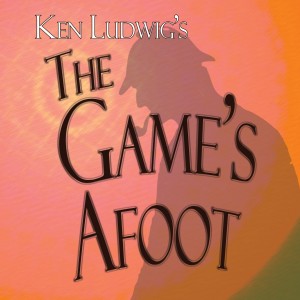 Winner! 2012 Mystery Writers of America Edgar Allen Poe Awards – Best Play!
http://www.samuelfrench.com/p/767/games-afoot-the
It is December 1936 and Broadway star William Gillette, admired the world over for his leading role in the play Sherlock Holmes, has invited his fellow cast-members to his Connecticut castle for a weekend of revelry. But when one of the guests is stabbed to death, the festivities in this isolated house of tricks and mirrors quickly turn dangerous. Then it's up to Gillette himself, as he assumes the persona of his beloved Holmes, to track down the killer before the next victim appears. The danger and hilarity are non-stop in this glittering whodunit set during the Christmas holidays.
Seeking 3 men and 5 women:
(Director's Note: Do not worry if you are not the proper age as long as you can look and act the appropriate age.)
WILLIAM GILLETTE (45 to 55) – Should display both Holmes like look and ego. He is tall, slender in figure, aquiline in feature, self-contained and forceful in stage presence.
MARTHA GILLETTE (mid 70s) – William's mother, a somewhat vague and dithering woman.
FELIX GEISEL (40s) – He is histrionic and arch in a Lionel (or John) Barrymore sort of way.
MARDE GEISEL (40s) – She is flamboyant and wry in a Rosalind Russell smart-mouthed-gal-about town sort of way.
SIMON BRIGHT (25) – Sweet, good-natured and enthusiastic. He is innately affectionate towards Aggie.
AGGIE WHEELER (25) – Beautiful, bright-eyed and full of spunk. She is innately affectionate towards Simon.
INSPECTOR GORING (40 to 50) – She is British, eccentric, and one of a kind. One minute she seems wry and clever, the next she's off in a world of her own.
DARIA CHASE (40s, maybe slightly older than the Geisels) – She is gorgeous, glamorous, someone you can't take your eye off of; and you can't help liking her, despite all of her show-biz cattiness.