Season Tickets on Sale Now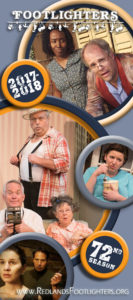 $75 for six shows! Save $15 with a season ticket — that means you get one show free!
Season tickets are on sale until August 27.
Place your order by July 1st for preferred seating. All seating requests will be honored in the order we receive them.
Purchase tickets online with a credit card or mail the form below with a check to P.O. Box 444, Redlands, CA, 92373.
All sales are final. Review our theatre and ticket policies.
Call for reservations: (909) 793-2909
Individual tickets: $15*
Students (with ID) save $5
*Unless otherwise noted.
Group rates are available. Contact us for details.
Box Office Hours
Our box office is open the week before the first show:
Tuesdays through Thursday from 5:00 PM to 8:00 PM
After the first week, the box office is open only on performance days:
Friday and Saturdays: 5:00 PM to 8:00 PM
Sunday matinées: Noon to 2:00 PM
During all other hours, please leave a message at 909-793-2909 and your call will be returned.
Performance Information
Performances are held at our theater located at 1810 Barton Road, in Redlands. Each show has 11 scheduled performances:
Opening Night Gala: Saturday at 8:00 p.m.
Fridays and Saturdays at 8:00 p.m.
Sundays matinées at 2:00 p.m.
Fundraiser for Your Organization
Raising money for your organization can be as easy as selling tickets to a private performance of one of our shows. For a set fee, you can reserve the entire theatre and set the ticket price for your audience.
Contact us for details.