Audition for Proposals on February 6 & 7
Redlands Footlighters will hold auditions for Neil Simon's Proposals on February 6 and 7 at 7:00 PM.  Auditions will consist of cold readings from the script. Download sides.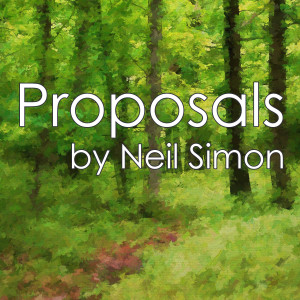 Directed by Pamela Lambert, this rare gem from America's playwright recalls the last time the Hines family gathered at their retreat in the Poconos. The summer of 1953 brings romantic entanglements that coalesce one idyllic afternoon. Burt Hines eagerly anticipates the arrival of the ex-wife he still loves. Daughter Josie has just broken her engagement. And Clemma, the black housekeeper at the center of the action, casts an astute eye on the complications while facing her own unresolved past.
Especially seeking an African-American female lead and several young actors to play 20-30 years old.
We will be looking for actors who can play the age range required by the script. The character breakdown is as follows:
Clemma Diggins: 30s-40s African-American, housekeeper for the Hines for twenty-two years and knows all theintimate goings-on in the family. Concerned and loving, she tries to look out for their best interests, while, at the same time, struggling with her own personal issues, which includes a wayward husband.
Burt Hines: 50s-60s, a little overweight, he had a recent heart attack and is at the family's cabin in the woods to recuperate. He's still in love with his ex-wife.
Josie Hines: 20s, She is trim and athletic, brimming with health and vitality. She's pretty with an intelligent and determined face.
Ken Norman: 20s, Fiancé of Josie. He's preppy and attractive, but with an air of desperation.
Ray Dolenz: 20s, Also, athletic, attractive and bright.
Annie Robbins: 40s-50s, Burt's ex-wife and Josie's mother, elegant and overdressed, she is not without her compassionate side.
Vinnie Bavasi: 20s-30s, Very slick, Jersey/Italian type, think Fonzie. There's more to him than meets the eye.
Sammii: 20s, gorgeous, model type, and current girlfriend of Kenny.
Lewis Barnett: 30s-50s African-American, estranged husband of Clemma.
Redlands Footlighters is located at 1801 Barton Road, in Redlands.  For more information, visit https://redlandsfootlighters.org/2016-2017-season/proposals/