Wait Until Dark to run 4 weekends in November
Redlands Footlighters Theater presents Jeffrey Hatcher's adaptation of Frederick Knott's hit play, Wait Until Dark. Directed by Patricia McQuillan, this suspense thriller is guaranteed to keep you on the edge of your seat. Playwright Hatcher has changed the era from 1966 to 1944, which puts us right in the middle of Nazi war times. Women's lib had not yet taken place, and even a sighted woman might have had difficulty dealing with life threatening adversity.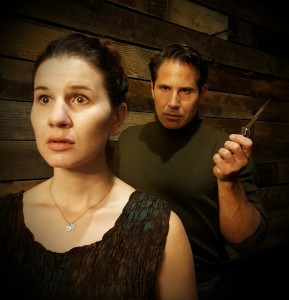 Susan (played by Tori Wurm) is recovering from a car accident that left her blind. Although otherwise healed, her disorientation and lack of esteem heightens when a psychopath (played by Robert S. Ciresi Jr.) intimidates her trying to get their hands on a precious doll. At first Susan falls into their game, but knows that she can take back the reins, IF she can wait until dark.
Wait Until Dark opens this Saturday, November 5, 2016 at 8:00pm, and runs through November 27, 2016. Go online to buy tickets or call the Box Office at 909-793-2909 to reserve your seats. Adult themes and language. Redlands Footlighters Theater is located at 1810 Barton Road in Redlands, west of Terracina Blvd. and next to the historical Asistencia.