Playwright to appear at Exit Laughing
"Lots of loud, sustained laughter from audiences" is how opening weekend was described for Exit Laughing at Redlands Footlighters. It guaranteed to continue for three more weekends!
On Saturday, August 15, we will be honored to host the playwright Paul Elliott. After the performance, he will stick around with the cast to answer questions from the audience.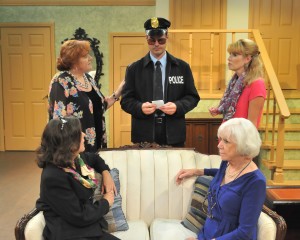 Paul Elliott is an actor, director and a respected television and screenwriter who has written, produced and/or directed over sixty television shows as well as writing/ producing/ and directing more than fifty theatrical plays including live entertainment spectaculars for theme parks like Disneyland, Disney World, EuroDisney, AstroWorld, Boblo Island and Sanrio Puroland in Japan.
This laugh-out-loud comedy tells the tale of four friends whose biggest life event happens to be their weekly bridge game. Their routine is turned upside-down when one of the four "inconveniently" passes. Their last card game becomes more than routine with a stolen urn, police raid, a stripper, and other surprises.
Directed by Cindi East, the audiences will fall out of their seats for the cast of Tracy Lay, Heidi Merrigan, Laura Richie, Christi Hays, and Sean Green.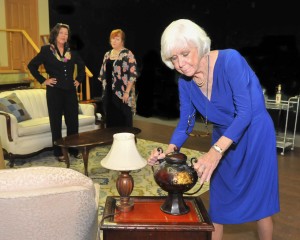 Exit Laughing completed its developmental staging with the Reunion Theater Group outside of Seattle, to rave reviews, then went on to become the winner in the 2013 AACTfest with a record-breaking premiere at the Springfield Little Theatre's historic Landers Theater. By the end of its premiere run, Exit Laughing had broken a fifty-year record for the amount of money raised and tickets sold, packed houses every night with standing room only . The play is now sweeping the community theater circuit as well as being prepped for a New York City opening in the fall of 2015.
BOX OFFICE INFO:
Exit Laughing runs for three more weekends: Fridays & Saturdays at 8:00 p.m. and Sundays at 2:00 p.m. Tickets can be purchased online at www.redlandsfootlighters.org/buy-tickets or through the box office at 909-793-2909. The box office is open two hours before each performance.