What does a mother do when she suspects her child is nothing like the sweet, well-mannered little girl everyone else sees? In this dark psychological thriller, disaster suddenly strikes one of Rhoda's classmates and her mother cannot help wondering if her daughter may not be so innocent after all.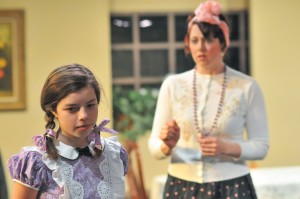 Based on a 1954 novel by William March, The Bad Seed ran on Broadway for 334 performances, earning Nancy Kelly a Tony Award for her role as the mother, Christine Penmark. The play was then adapted into an Academy Award-nominated film that has since become a cult classic.
The Bad Seed brings to mind the nursery rhyme about the little girl with the little curl: "When she was good, she was very, very good — and when she was bad, she was horrid." In Maxwell Anderson's old-fashioned suspense melodrama, an anguished mother tries to cope with the painful discovery that her perfectly-behaved eight-year-old may be a sociopath capable of cold-blooded murder. Is it nature or nurture?
The Redlands Footlighters Theater is located at 1810 Barton Road, next to the Asistencia. Call 909-793-2909 or visit our website for tickets www.RedlandsFootlighters.org The Bad Seed runs March 12th, 2015 through March 29th. Performances are Friday and Saturday evenings and Sunday afternoons. Show times for evening performances will be 8:pm and Sunday matinees start at 2:pm. Admission is $15/$10 with student ID.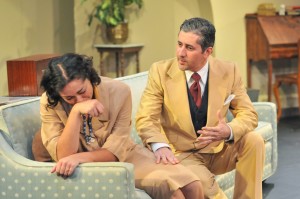 By the way, if you ever wanted to help out with a local community theater, we would love to see you. Do you like to paint, work on costumes, build things or try your hand at being in front of the footlights, come on by and let us know!